Product Range
Products that Really Work!
OUR PRODUCTS ARE:
NOT tested on Animals (We test on us!)
Created with naturally-recurring ingredients
Formulated in compliance with US FDA regulations
Formulated with NO Animal By Products
Anti-Aging SkinCare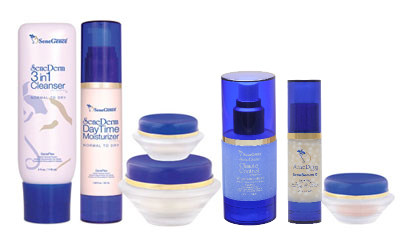 SeneDerm SkinCare
 systems work by affording the user the greatest benefits from the most effective anti-ageing ingredients available today. Product formulas contain SenePlex Complex®, a unique combination of ingredients, which when used properly, accelerates cellular renewal by 23.3%. Independent Clinical Tests results confirm that SenePlex Complex is highly effective in increasing skin firmness and elasticity, reducing fine lines and wrinkles and enhancing luminosity. A complete regimen for total skin care from morning to night is available.
Specialized Treatments
SeneDerm Solutions™ is a line of specialized treatment products that serve as effective solutions for an array of targeted specific skin and personal care needs. SeneGence and its scientists self-formulated these products using amazing technologies blended with SenePlex Complex to create products that work effectively on problem areas users have previously only dreamed of finding resolutions for.

Long-Lasting Colour Cosmetics
Combining the same anti-ageing benefits as our skincare with patented long-lasting colour technology results in the SenseCosmetics line of creamy colour cosmetics with SenePlex Complex. SenseCosmetics are water-proof or water-resistant, act as a mechanical shield and deliver essential nutrients to create healthier skin with use. SenseCosmetics can be blended together to create custom looks.
The premier product of SeneGence is patented LipSense liquid lip colour. LipSense is an amazing departure from conventional lipsticks and lip colours found on the market today. It comes in a wide variety of shades and textures with over 50 shades that can be to mixed and matched to create a number of effects. This unique product is waterproof and does not smear off, rub off, or kiss off and can last anywhere from 4 to18 hours. LipSense is a non-wax, liquid lip colour that stays on the skin and provides a natural, mechanical shield from the elements.
SenseCosmetics® eye products include a full range of colour shades that work to make your eye looks more beautiful and your looks last longer than ever before. The SenseCosmetics colour line is a unique combination of essential properties and our patented long-lasting colour technology blended and cream ShadowSense® shades include with our Anti-Ageing SenePlex Complex®.
We guarantee your 100% satisfaction – that is our promise!
SeneGence® takes unique products formulations to a new level with their revolutionary lines of skin care and cosmetics, based on the SenePlex anti-aging complex of ingredients and the latest in technologies.
SeneGence Product Formulations:
No Animal Testing (We test on us!)
No animal by-products (We use alternative sources)
Use of naturally reoccurring natural ingredients
All products formulated with FDA approved ingredients
Made in 'Pharmaceutical Grade' rated manufacturing facility
Made in the United States for stringent quality control
Gluten and GMO free (most products)
LipSense contains NO WAX & NO LEAD
Products that help rather than harm your skin. Products that are tested for results.
100% satisfaction guarantee!